Recently Expired Hunkemoller Vouchers
hunkemoller.co.uk Review
A favourite all over Europe, Hunkemoller have been providing females with top quality lingerie and nightwear for many years. The site is packed with some lovely pieces all presented from a modern looking webstore. The main menu has a hover feature and when hovering over a link it drops down a selection of sub categories which reveal all the latest offers and discounts. Many of the special offers feature half price multibuys and savings for larger orders. All the main products can be selected from the main menu with sub categories for easy navigation to the products you need. There's a handy search field for a more direct route if you prefer.
The product image comes complete with a handy quick order feature, taking you straight to the product description page. Here you can add the product by size and colour and has a handy size guide and item review stats. Find out who has bought before and what they thought of the item. To add a promo or voucher code go to the basket and enter the code into the field and then click the add button. I have added an image of the basket stage below to show the method.
There are no free shipping deals but the delivery cost is low cost but has the disadvantage of a wait of up to 5 days. Although I did seem to get free shipping, if you look at the image below of the basket it definitely states that the Royal Mail priority delivery is free, that's a bonus then.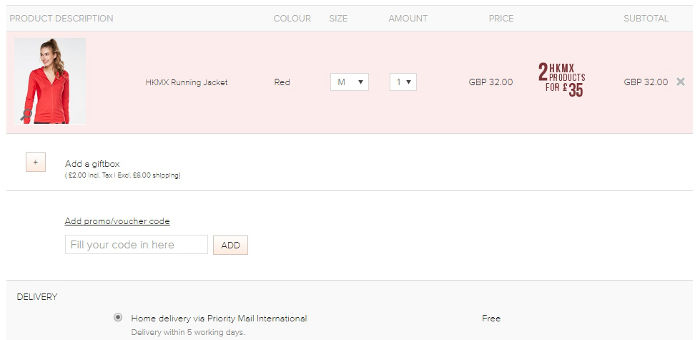 Payment can be made using the traditional card method or by Paypal checkout. The contact page is reachable using the link at the bottom of the page. The contact methods include online form, telephone for ordering and advice and an email address. This does include a UK mail address.
Hunkemöller UK Ltd, part of:
Hunkemöller International B.V.
Tower Bridge House
St. Katharine's Way
London, E1W 1DD
United Kingdom
Phone number 0800 – 3680351
One final point to take into consideration is the Hunkemöller member card which allows you to collect points every time you shop or take part in social sharing or likes. Points can be redeemed against future purchases.