About Tiqets
Tiqets is one of the largest online ticket providers in the world. They offer instant online booking for hundreds of venues in the UK and overseas. Book tickets for museums, shows and attractions all over the world in cities such as London, Dubai, Rome, New york and many more.
Tiqets Booking Guide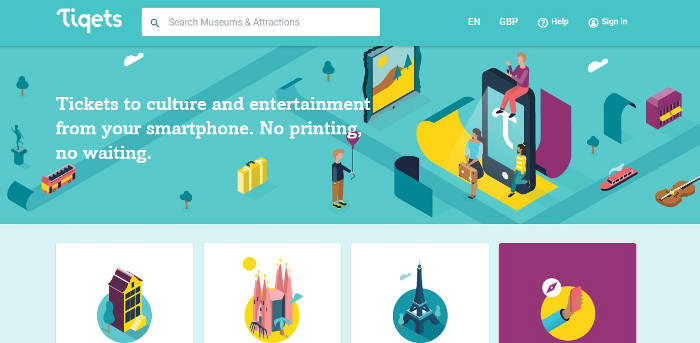 Fancy a trip to the Louvre museum? How about the Empire State Building? Tiqets makes it possible to get your tickets online whenever you want and wherever you are. All the tickets are sent to your emails and stored in the app, so you can just show them without printing.
Clear Process and Website
The overall website design is modern. You have a clear 1, 2, 3 step process on getting your tickets and using them, making it clear what's on offer. Then you can scroll through the most popular attractions through the site. Of course, there are far more, which is where the search bar at the very top comes into play.
You get to set your currency, so you can pay in your local currency or your own. Paying in your own is advantageous, as you can use your own credit or debit card through the app or site. You can also pay through PayPal and other mobile options listed in the FAQ and the checkout is where you'll enter promo code information.
Support in the Modern Age
As well as a modern site, the support has kept up with the times. Plus, it's available 24/7, as there can always be a problem at an inconvenient time in some parts of the world! You can get in touch via email, social media, and even WhatsApp! There aren't many companies that offer that!
The FAQ is extensive and there's a blog for more help when travelling. In fact, the blog offers travel tips, ideas when you're in specific cities, local concerts and events, and keeps you updated on things happening at Tiqets. The idea is to connect with you, so you constantly feel at easy.