Recently Expired LE Lighting Ever Vouchers
Le Lighting Ever Review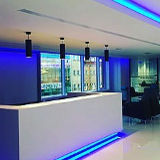 Everyone's idea of modern LED lighting is fixed and dimmable and is limited to the usual ceiling light lamps, floodlight and Christmas lights. Take a step into LE LIghting Ever's online store springs up a few surprises on choice. First I would like to mention the useful lamp type selector which shows a choice of lamp cap or fixing images. Not everyone, in fact not many people at all know the code or product codes of the different array of lamp fixing methods on the market. This handy tool gives you the option of looking at the broken lamp you with to replace and compare with the images for easy comparison. Each image is clickable and will take you directly to the required product.
There are some fantastic choices of LED strip lighting that takes lighting to a different level. Strip lighting is great for illuminating kitchen benches by attaching strip lights to the underside of the wall hanging cupboards. Alternatively it can be fixed under the floor standing units for effective and stunning floor level mood lighting. Not only can you buy white strip lighting but there's a choice of coloured or colour changing effects for an even more stunning effect.
LED lighting is the new energy saving choice, overtaking the now old-hat energy saving lamps of the past that took time to get to full power. Now there's no waiting around with instant full power lighting offering an average of 90% saving on power. Power saving is not the only advantage with extended life of up to 50,000 hours. Compare that with a typical halogen type floodlight, that's an amazing improvement on life, power saving and maintenance costs. Most of this lighting is a fit and forget scenario with very little maintenance and no lamp changing.
One more advantage of the power saving properties is the extended life and extra brightness of battery powered lighting. Get safer on the roads with brighter and more intelligent cycle lighting and longer lasting lighting for outdoor activities such as camping and hiking.