Guoman Hotels Review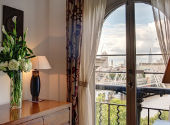 The Guoman Hotels website is a little dazzling and confusing on first sight, your eyes are trained on the different images moving into view as you move down the page. One simple feature is the quick booking bar which pops up on first scroll of the page. Pop in your prefered dates, the number and type of guests and any promo codes you may have and hit the 'book' button to get the hotels and prices for your stay. Selecting some dates for a one night stay reveals 4 hotels and the prices for the booking. From here you can either click the more details option or the book now link. Clicking on the 'book now' link takes customers to the booking page which shows all the room options and prices.
The Royal Horseguards Hotel offered 7 room choices from standard rooms to full suites. The River View Suite is suitable for 2 People and sized at an impressive 84 Sq m or 904 Sq ft. The standard Deluxe Room, City View is still a good size and is suitable for 2 People and sized at 23 Sq m or 248 Sq ft. You can add a discount code on this page if you have one. If not, you can unlock a private offer or code by social sharing the page on Facebook or Twitter. From here you can go ahead and book. Payment options include Diners Club, MasterCard, Visa and American Express.
The Royal Horseguards Hotel has stunning views of the River Thames and the Millennium Wheel. The Grosvenor is  beautifully restored Victorian hotel situated slap bang in the heart of central London near the Victoria rail Station. The Cumberland Hotel is located in London in between Oxford Street and Park Lane. Last but not least the Tower Hotel is conveniently situated on the River Thames near St Katharine Docks right next to the Tower of London, with great views of Tower Bridge. So no matter where you want to stay in London there's a hotel to suit your needs.