Flush Bathrooms Top Discounts
| Type | Offer | Discount |
| --- | --- | --- |
| Code | 5% off Orders Over £500 | 5% |
| Deal | Up to 60% off Bathroom Sale | 60% |
| Deal | Up to 50% off Bathroom Suites | 50% |
| Freebie | Free UK Delivery on Orders | Free Delivery |
Flush Bathrooms Review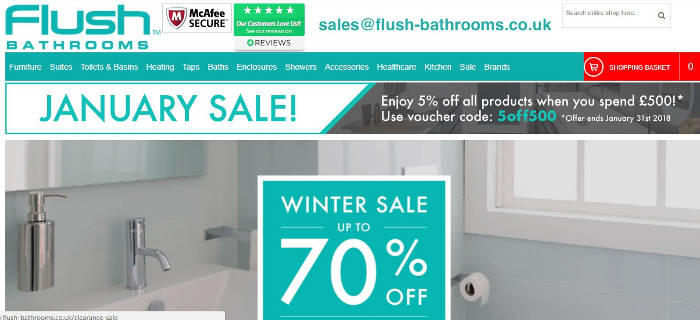 When you first visit Flush Bathrooms, you'll get a pop-up to subscribe to the newsletter. It's clear this gives you a discount voucher to use later, but it's also very easy to get straight back to the site, making it easy to browse.
Latest Sale the First Thing You See
On the home page, you can't miss the latest sale of the moment. This can be a January sale, mid-season sale or even special offerings. The promo code to use is put right in front of your eye line and is extremely easy to use at the checkout. Towards the bottom, the free delivery statement is clear to encourage more sales.
Unfortunately, the rest of the homepage is a little scrunched up. This can make it harder to read the text. There are bolded and underlined headings, but it's all very plain and disappointing based on the initial look of the site. Apart from this, the site is relatively easy to use. There's a clear menu at the top, helping you find suites and items for individual rooms and needs. The search function stands out to keep time searching the site to a minimum.
Using a Discount Code
Discount codes can be added directly from the basket page, this is a great option as you can see the savings before committing to buy. Other products can be added to the basket and providing the voucher is valid the cost will be updated to reflect the savings. Don't forget to click the 'apply voucher' button to update the basket.
Contacting Made Easy
The top of the website has a contact email address shared brightly. This is clearly the preferred method of contact, but there is also a phone number in large print at the bottom of the website. When you click on the Contact Us link, you're given many more options, including a physical address. This can help you make decisions, learn more about deliveries and make sure you've getting the best deal.
For those who do worry, past customer testimonials are shown throughout the website. They're not all five-star reviews, either. To help settle your mind, you can see the reasons some people have only given four-stars. The company isn't pretending perfection.