About Designer Sofas 4U
Designer Sofas 4U have been operating for over twenty years and bring with them a wealth of experience in the online furniture and sofa market. They offer a range of chesterfield sofas, high back chairs, home decor, bedroom and living room furniture. Buy online with worldwide delivery, low price promise and 0% finance available.
Designer Sofas 4U Top Discounts
| Type | Offer | Discount |
| --- | --- | --- |
| Code | 5% off Orders Over £499 | 5% |
| Deal | 5% off First Orders | 5% |
| Deal | 50% off Chesterfield Furniture | 50% |
| Deal | Up to 25% off Dining Sets | 25% |
Designer Sofas 4U Review
Lets take a walk-around the Designer Sofas web store and see just how easy (or not) it is to use.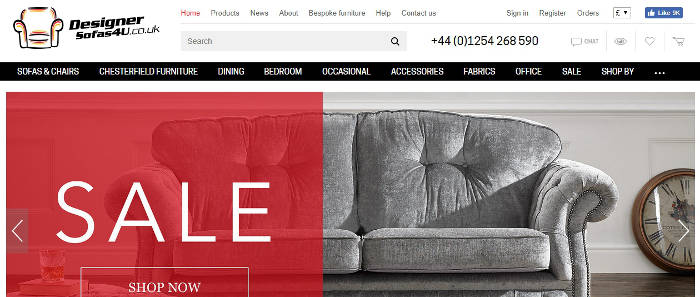 Designer Sofas 4U isn't just a stop for your sofa and couch needs, but also the place for your beds and office furniture needs. The clear and crisp site makes navigating and finding your dream sofa easy and hassle free. There's no better place to shop.
Clear Navigation and Contact
Getting in touch with a human is important for any business. Customers want to be able to clearly see a phone number or method to talk to a real person. Designer Sofas 4U instantly ticks that box with a phone number in bold at the very top of the site. Just above that is a link to the Contact page, which takes you to a list of email addresses, a physical address, and Customer Support operating times to ensure satisfaction.
There is also a Live Chat option. This makes it possible to discuss all your needs directly without picking up the phone, perfect for those hard of hearing or in a busy and noisy environment.
Overall, the site is easy to navigate and use. A large search bar makes it possible to quickly type in the details of the item you're looking for. It's possible to search by keywords, product title, or even product number.
Financing Options and Deals Made Known
The company doesn't try to hide its deals at the bottom of the site. A scrolling window shows all the top picks and latest offers and then there is a deal section just below that. Whether it's Black Friday sales, Boxing Day offers, or other mid-year opportunities, the deals are made clear and concise.
Then there's the financing option. Sofas aren't cheap, but Designer Sofas 4U makes them more affordable with 0% financing. The sales pages also break the financing options down by weeks, so you know exactly how much you'll end up paying.
Free Delivery for Mattresses and Pillows
When you get a bespoke item, you may also order mattresses and pillows. While there is no free delivery option for the furniture, there is when it comes to the accessories. These are done the next day, so you have them ready for when your furniture arrives.
There are multiple delivery and storage options if you need, offering shipping worldwide. This is great for those moving and want to update their décor.