Big Blue Cover Review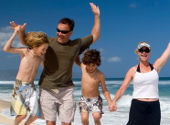 Insurance always comes together with the hire of  car but it may not always cover you for every eventuality that may be encountered. This is always true when a car is damaged in some way or is stolen whilst in your care. To take additional cover with the the hire company can be an expensive game so it pays to get a quote from an independant broker, this is where Big Blue Cover comes to the rescue. Big Blue will cover such items as the windscreen, tyres, roof and the underside of the car which can be damaged by road debris. Cover also includes lost keys, fuel mistakes and call outs for being locked out of the car. The insurance you take will cover any excess you may be charged and will also provide added protection should the need arise for a claim.
Bigbluecover.com also provide low cost holiday insurance cover for any travel plans including single trip and regular travelling from individuals on business trips to a family holiday in the sun. The annual travel policy gives the flexibility at all times whenever you plan to travel, there's no need for individual cover every time you take a trip on holiday or for business. This option can save a hat full of cash by wrapping up all the travel into one policy that will last a full 12 months.
If you are planning a annual trip with the family of friends then the bigbluecover.com holiday policy could be for you. No matter where you plan to travel, Europe or anywhere around the world you can get the right low cost travel cover for a single trip abroad.
There's also a specific cover for golf enthusiasts. The golf policy provides protection for yourself and your precious and sometimes expensive golf equipment. Take the worry out of traveling and just concentrate on your game with bigbluecover.com.