Bettys Shopping Guide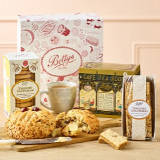 When you're looking for hampers, gift ideas and gift baskets, Bettys is the best place to go. Linked to the tea rooms around England, Bettys has a variety of chocolates, baked goods, and seasonal treats available.
Bettys is an institution in Harrogate after opening its first store in Cambridge Crescent taking the brand right back to it's roots and the place where it made its famous name. Although the origin of the Bettys name is not known today.
Easy to Find All Your Needs
The site wants you to buy exactly what you need, so it's easily laid out and beautiful to use. The menu bar separates by items and also includes a seasonal section, which changes depending on the time of year.
Prices of items are also clearly laid out. You can buy Easter baskets, Mother's Day gifts, Bettys tea gift sets and much more without guessing the price before you get to the checkout. Everything is clearly labeled on the product pages, helping you determine allergies, freshness and more.
Easy to Get in Touch
On top of that, it's very easy to get in touch with someone. Bettys would love for you to contact via social media, so has a list of options at the bottom of the page. The top of the page also has a phone number and a directory of the shops around England. On the Contact page, the options are separated by need and requirement to make sure you get to the right person for your enquiry.
When it comes to delivery, Bettys lists out all the costs involved, depending on your delivery method of preference. Everything is done through tracking, which you can check on directly through the site. There's never a fear of missing out or it getting lost in the mail.
It's also possible to sign up to the mailing list, where you'll get all the latest deals and offers. At the very top of the page, you'll also find the latest voucher code for all customers. This changes throughout the year, depending on the season.