Recently Expired 10 Motives Vouchers
10motives.com Shoppers Guide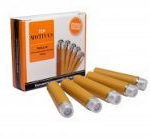 The first thing that strikes is the variety of brands on offer at 10 Motives. The brand and site is owned and ran by the American tobacco giant BAT. British American Tobacco own other brands of electronic cigarettes such as Blu. You have to be a seasoned vaping pro to find your way through the tirade of devices and kits. The product choice includes the simple disposable tip type vape, standard refillable e-cigarette and the versatile tank type vaping pipe.
Easy Ordering
Ordering is fairly straight forward; you can add products to the basket directly from the product description. At the basket you get a reminder of how much more you need to spend to qualify for free delivery. You can add, update or remove an item at this stage but disappointingly there's no field to add a voucher code. Maybe we can add this later?
Okay, now I've registered as a customer I can see the promotional code field at the true checkout stage. Payment can be made using credit/debit card or by Paypal checkout. Delivery options include second class or first class post or next day courier shipping.
Users can sign up to the regular newsletter to keep in touch with the latest products and offers. Alternatively 10 Motives manage social pages at Twitter and Facebook if you prefer.