TripAdvisor Rentals Top Discounts
| Type | Offer | Discount |
| --- | --- | --- |
| Deal | Up to 50% off Holiday Accommodation | Up to 50% |
| Deal | Norfolk Cottages From £45 per Night | Low Price Deal |
| Deal | Yorkshire Cottages From £30 per Night | Low Price Deal |
Money Saving Tips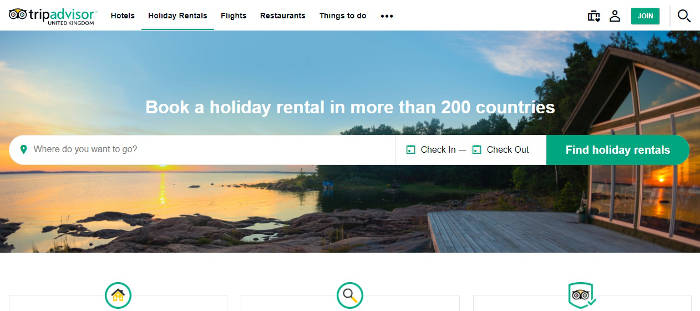 Save money at TripAdviser Holiday Rentals using our expert tips
Put in your dates and pick your destination for the search. Don't pick too soon, scroll down the page and  throughout all the pages. Some of the cottages will be tagged with a discount above the feature image that offer savings of up to 50% off RRP depending on the time of year or last minute booking.
If you're not to fussy where you go or that you may have to pack your bags quick then wait until the last minute to snap up the largest discounts on late deals. The landlords would rather let the accommodation cheap rather than leave the property empty. Don't forget to check the reviews before booking.
Signing up to the newsletter gives a fighting chance of picking up the latest deals as they happen.
Search and Checkout
Searching is a simple process even when looking for different destinations. Just pop in your arrival and departure dates, your bedroom choice if you have one and the number of guests. These details stay saved when browsing the site even when looking in other areas of the UK or countries. Hitting the book button opens up a details page where you can check the full details of the property along with a selection of reviews from past visitors. Click the 'book button' again to advance to the checkout, don't forget to confirm the dates of your stay.
The checkout provides all the fields for payment which can be made by credit/debit card or by Paypal. Unfortunately I couldn't find any place to use a voucher code which is a disappointment, all the discounts must be auto validated with the booking.
Social Pages
TripAdvisor Rentals do have a Facebook page and although the page seems to be aimed mostly at landlords and cottage owners it might be sensible to follow the page to pick up any seasonal offers. As you might expect, TripAdvisor have a huge following on Twitter however there doesn't seem to be a dedicated rental page.
Owners
Not wanting to forget property owners that might want to start listing their rental on Tripadvisor, they do offer good value for money listings with no upfront fees and no contract to tie you in.