Stays.co.uk Top Discounts
| Type | Offer | Discount |
| --- | --- | --- |
| Deal | Pet Friendly Cottages from £150 per Week | Low Price |
| Deal | Norfolk Cottages from £159 per Week | Low Price |
| Deal | Wales Cottages from £181 per Week | Low Price |
| Deal | Cornwall Cottages from £175 per Week | Low Price |
Stays.co.uk Review
Is your holiday living up to it's full potential? Find great accommodation with booking ease at Stays.co.uk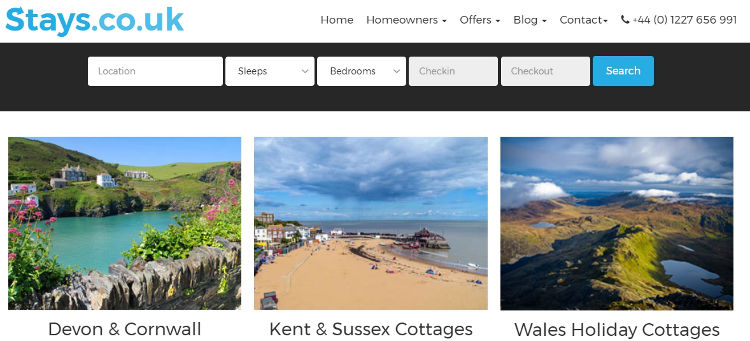 Stays offers the chance to search for the perfect accommodation in your dream vacation. This isn't just about finding a hotel, but about finding a cottage for a group of friends or a family to enjoy peace and quiet. While many of the locations are in the UK, there are plenty of opportunities around the world.
Focusing on Specific Locations
The homepage pulls in viewers and helps to keep the searching and navigation to a minimum. There are six clear options, focusing on specific locations or needs that are popular at the time. These can be areas within the UK, countries around the world, or even specific child or pet needs.
You can also navigate specifically by map, so you get to choose your dream location first. All you have to do is input the details for your stay, including number of bedrooms. It's a price comparison site that keeps the confusion to a minimum.
When the listings appear, there are easy to read symbols to make sure the cottages match your needs. It's easy to tell when a place is pet or child friendly, wheelchair accessible, and has Wi-Fi.
Contacting Made Easy
There's no need to worry about getting in touch with someone. The phone number for Customer Services is clearly labeled, with operating hours and the ability to leave a message. This is even a local number, so no need to worry about spending a fortune while waiting on hold. Contacting through social media is also easy, whether you have Facebook, Twitter, Instagram, or even YouTube.
On top of that, deals and offers are clearly visible in the menu. There are multiple types of deals for those deciding last minute, those who like to plan, and people who would like to see the odd special offer. There's not always a guarantee there will be offers, and you won't find that out until you click on the menu bar.
An Opportunity to Rent Your Own Cottage
If you have a cottage that you'd like to rent out to people, that's also possible. Stays offers the opportunity for homeowners to sign up and set up a deal. In fact, all the cottages on the site are privately owned, with the site acting as middleman to keep everyone protected.
Payments and deposits are all handled through Stays. There is a mediation process should something go wrong, putting minds at ease. Payment can be made via credit card, bank transfer and even through PayPal for peace of mind.