Top Discounts
| Type | Offer | Discount |
| --- | --- | --- |
| Code | Up to 15% off Holiday Accommodation | 15% |
| Deal | Up to 15% Villas in Italy | 15% |
| Deal | Up to 15% Villas in Croatia | 15% |
Novasol Review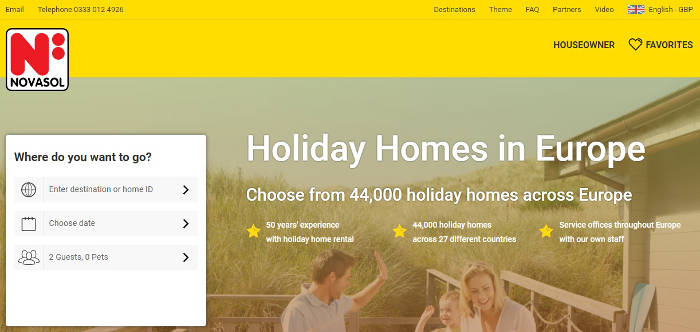 When you want to book a holiday in Europe, look no further than Novasol. The first look at the site will make you get into the holiday mood with the colour scheme. From there, it's easy to use and get that special holiday booked.
Compare the Prices Simply
At the top of the homepage, there's a search box. You can put in all your holiday needs, including dates and number of guests and let the site do all the work for you. The site searches all the holiday homes listed that match your needs, listing them by Best Match initially. You can then choose to list by price, rating and more.
Not only do you see a list of villas, but you see where they are on the map. It's easier to manage your whole holiday by knowing exactly where you'll be staying.
See the Destinations at a Glance
Not sure where you want to do? Novasol will also give you some holiday inspiration, by sharing the destinations available. You'll see beautiful pictures and descriptions to decide where your next adventure will go. You can also arrange for the brochure to be mailed to you, helping you make your decisions whenever you want.
Contacting the site is easy and clear. The bottom of the homepage has the email address, phone number, and support opening hours. There's also an FAQ section to help navigate and book.
Lack of Promo Codes
The site has regular sales and will show you when a rental has reduced in price. This does mean there's a lack of promo codes through the site. If you do get one through email, you can use it on the checkout to apply the discount. You don't get a popup with the email list option, either. This is at the bottom of the site, making it unobtrusive.