Holiday Lettings UK Top Discounts
| Type | Offer | Discount |
| --- | --- | --- |
| Deal | Stays from £10 per Night | Great Value |
| Deal | Stays in Lincolnshire from £10 per Night | Low Price |
| Deal | Breaks in Cornwall from £25 per Night | Low Price |
| Deal | Breaks in Yorkshire from £27 per Night | Low Price |
Holiday Lettings UK Review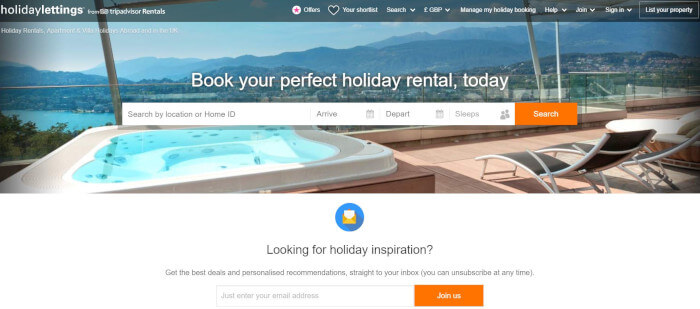 If you're looking to plan a new holiday, Holiday Lettings is the website for you. It offers a chance to find villas and holiday rentals that are perfect for your party's needs. Here's a look at just how easy the site is to navigate.
First Impressions
As soon as you go to the homepage of holidaylettings.co.uk, you'll know exactly what you're getting. Not only do you have the beautiful picture of a rental – and you know you want to go there! – you'll get a search bar to input your location, dates, and party size.
The search results are clear and easy to book. Initially, they come up as "most relevant" but you can change the order to lowest price first or based on the best reviews. When you see the prices, they're for the whole time you're there, rather than telling you the price per night and forcing you to work out the details yourself.
There's something for all budgets and interests. Once you have the results, it's easy to filter to find something within your price range or change the dates to something you need.
Newsletter and Booking Management
You can sign up to the newsletter, which offers the latest deals and keeps you up to date on searches that interest you. It's easy to sign up on the home page (and there are no annoying pop ups while you're browsing!).
Managing your bookings is easy with an account that you'll create when you book your holiday. Through this, you'll be able to contact the villa owner and pay for the booking. It's a safe and secure portal to make sure you have an easy experience leading up to and during the holiday.
Payments are easy, too. While you can pay by credit card or debit card, you can also choose to pay by PayPal. There's something for everyone on this clean and easy-to-navigate site.
Need to get in touch with the website owners? That's extremely easy. There are social media buttons at the moment to get through to Facebook, Twitter, or Instagram. The downside is the lack of contact page. There's no phone number since this is a third-party site – the idea is that you get in touch with the villa and rental owners directly.