The Hairy Bikers Diet Club Review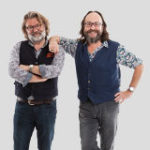 Everyone knows the Hairy Bikers, the two fellows travelling around on motorbikes sampling and making dishes from local produce around the UK. Due to their popularity they are now venturing into the diet world inspired by their battle against the bulge.
It is obvious at first sight that the website is controlled and endorsed by Si King and Dave Myers of the Hairy Bikers. Images of the duo are adorned across the homepage, which I guess gives users a sense of ease that they are being helped by someone they trust.
The main feature includes the aforementioned pictures plus a list of membership benefits. This list explains the diet and exercise plans and the site tools such as weekly weigh-ins and online diary. There's what I would call typical diet site before and after pictures, you know the ones, the breathing in and out pictures, just a joke.  On the right side there's feature images of some of the prepared meals.
For pricing you will need to scroll near the bottom of the page which in my opinion should be at the top. But to be fair there are top menu links to view the plan pricing. There are also links to previous success stories, weight loss tips, recipes and the blog.
For the socialite there are plenty of pages on the popular social media sites such as Facebook and Google+. For the media followers they have a Pinterest page, Instagram page and videos on YouTube. To find the contact details you have to scroll right to the bottom of the page. Contact methods are by contact form and telephone. The site is managed by a third party company SP Health Co Pty Ltd, based in the UK and Australia.