Dorset Hideaways Top Discounts
| Type | Offer | Discount |
| --- | --- | --- |
| Code | Holiday Cottages From £300 | Low Cost |
| Deal | Up to 20% discount on Dorset Cottage Bookings | Up to 20% |
| Deal | Pet Friendly Cottages From £408 | Low Cost |
Money Saving Tips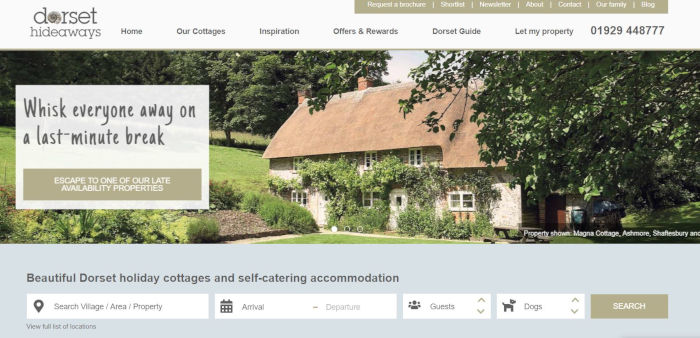 Dorset Hideaways Top Tips
Lowest price first – Pop in your chosen dates and length of stay than hit search. This will list all the properties available that match your criteria. Try sorting by price rather than name or occupancy, this will make sure the least expensive and best value properties will drop first.
Be flexible – You should get better value by varying the location. If you're not to worried about where you stay the best value will be out of town or away from coastal areas.
Keep it compact – Make sure you hire a property that matches your occupancy needs. Bigger cottages normally command higher prices so sticking with one that suits the number of visitors makes more sense as well as saving money.
Be social – First of port of call should be the offers and rewards page on the Dorset Hideaways site or you can sign up and start following the social pages on Facebook, Twitter or Instagram. Many offers are shared first with their social followers so don't get left behind. And try signing up with the customer newsletter, once again a good source of discounts especially throughout the low season.
Dorset Hideaways Shoppers Guide
Dorset Hideaways only offer cottages throughout the county of Dorset. By concentrating on one area it keeps the customer experience more tailored and personal. Right from the off it is clear that they cater for all types of holidaymaker, a strong message on the homepage highlights the availability of dog friendly accommodation, family holiday homes and those that suit a romantic stay.
Bookings can be made 24 hours/day online with instant confirmation by email. You can also book by telephone on weekdays and Saturday. Once you've Made your choice of accommodation hitting the 'view details' link reveals the details page offering all the information about the holiday home. From here you can check the available dates and the essential information before you book. No clue on whether voucher codes can be used on the site, as there's no place on the booking personal details page, maybe they can be added later in the booking process.
All in all seems to be an easy enough site to use, aesthetically pleasing with professional body accreditation and press recognition to boot.