About Contiki
Contiki, a travel company with a difference for 18 to 35 year old adventurers. Young people are given the opportunity to simply visit one country or multiple countries in one trip. Experience a mix of cultures seeing and doing much more than on a conventional vacation. Travellers get guaranteed value for money accommodation to suit all needs. Budget with free time add-ons designed to enhance core cultural passions, food, fashion and history.
Top Discounts
| Type | Offer | Discount |
| --- | --- | --- |
| Deal | Up to 20% off Last Minute Deals | Up to 20% |
| Deal | Up to 10% off Group Bookings | Up to 10% |
| Deal | 5% Student Discount | 5% |
| Deal | 5% Discount for Repeat Travellers | 5% |
Contiki UK Review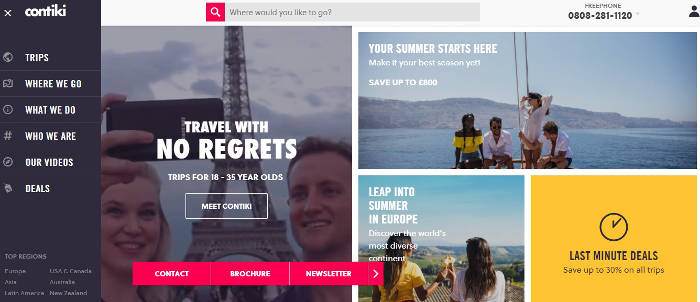 contiki.com/uk is a site packed with exiting destinations and an abundance of deals right from the off. We will take a look at the ease of use and the ability to get the best savings possible and how easy it is to find them. Right from the start one of the top promotions smacks you in the eye offering up to £800 off at the time of writing. Clicking through takes you to the Summer deals page which breaks down the offers by country and the type of travel and destination.
A Homepage with Plenty of Options
A first glance at Contiki's homepage can be a little overwhelming. Once you get past the initial sight of images and colours, you'll find it easier to follow. However, you may need to click on the "What We Do" or "Who We Are" to figure out exactly what you'll get!
It's all about creating memorable holidays for 18 to 35-year-olds. The website is certainly geared for this age bracket!
Booking
Booking seems to be a sinch, all you do is click on the offer, choose from the available dates and click book trip – that's it! One thing to bear in mind is that the cheapest price may be for a twin sharing room, an extra premium is payable for single rooms when travelling alone, and flights are extra. It's a bonus if you are travelling in groups of 2 or more and the price comes down. There are more discounts for groups of 10 or more, increase the numbers and you pay less per person. Coupon codes can be added at the trip overview stage of the booking, just pop your code into 'promo code' box and click the 'add' button.
There's an option to book your own flights or let Contiki do it for you, it's your choice.
Deals
Of course, most Millennials will look for the best holiday for their money. They want memorable trips that are cost-effective. The good news is Contiki makes it extremely easy to find that. The menu bar at the side (making it look like a mobile view instead of desktop!) gives you a Deals section at the very bottom.
This has all the latest promotions and tips on how to save money. There's a section with current promotions and ongoing deals to make sure you don't miss out! If you sign up to the newsletter, you'll get even more deals and promos that you can use at the checkout!
Promotions

– Just a general introduction to the page.

Early Payment Discounts

– Savings when you pay early rather than at the last minute.

Last Minute Deals

– Showing lots of last minute savings to destinations all over the world. Each promotion comes listed with a visible promo code to add at the booking stage.

Year-Round Deals

– offering fixed discounts for groups, students, sharing and friends bookings.
Contact Through Social Media
As you would expect with a site for 18 to 35-year-olds, most of the contact is through social media. However, there is a phone number if you want to talk to a live person. There is also a Live Chat coming soon, which will help keep things more streamlined on the site.
Payments are done in stages and you get the choose the amount you can afford and when. This helps with budgeting and saving, so you can plan that trip of a lifetime easily.
Finally you can keep up with all the latest news from Contiki in the UK through the dedicated social pages at Facebook and Twitter. Or subscribe to the newsletter for all the news to your inbox.