About Bloom Boutique
Buy a gift with a difference which are available in a variety of gem colours and styles. Buy a range of other gift ideas for men, women and kids of all ages. Every gift is priced for affordability with free UK delivery and worldwide shipping. Students can pick up a discount when verifying their student status with StudentBeans.
Top Discounts
| Type | Offer | Discount |
| --- | --- | --- |
| Code | 10% off First Orders | 10% |
| Deal | 10% Student Discount | 10% |
| Deal | Up to 70% off Sales Items | Up to 70% |
| Deal | Free Delivery on Orders | Free Delivery |
Bloom Boutique Review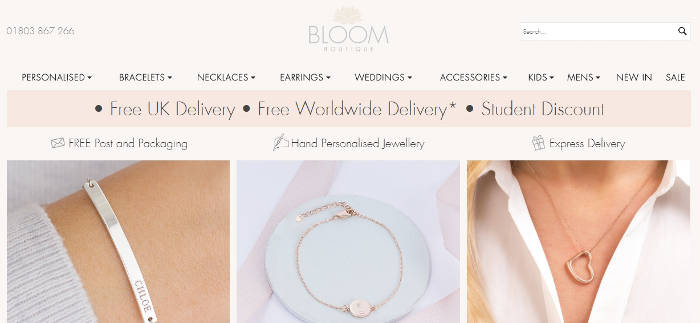 Have you ever wanted to buy the personalised, unique jewellery? Bloom Boutique offers a range of beautiful options and as soon as you visit the site you will get a look at everything available. You also get invited to sign up to the email list, offering money off your first order. Don't worry if you're not certain about joining, as there is an option later on the homepage.
Window Layout for Easy Browsing
When you look for gifts, you're not always sure where to start. Bloom Boutique makes it easier by setting out a smart window layout, taking you to specific needs and preferences. Whether you want something for Valentine's Day, a special wedding band or a necklace for a family member, you can use the windows to find the best option for you.
Once you're in a section, pricing and information are clear. You can also quickly filter your options by price, style, colour and more. You can also see what's in the sale or all the new products easily enough.
One of the best things about the site is how it clearly states free delivery. This isn't just for the UK orders, but worldwide. There are also student discounts available, which is uncommon in jewellery stores. voucher codes can be added directly from the basket page so that the order cost can be checked before ordering.
Easy to Contact and Beautiful Blog
Contacting the company is extremely simple, with a clear Contact Us section in the top menu. This goes to a page with a local phone number, email address and physical address. If you're interested in collaborations, there's a contact section for that, too.
And there's a blog. You can get gift ideas, personalisation inspiration and more through the beautifully laid out blog. This isn't just a place to further promote Bloom Boutique's own products, but to offer value to all those who visit.