BenQ Review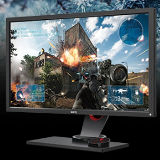 BenQ needs no introduction and everyone who's a little techie will have heard of the BenQ brand. The graphics on the homepage a fantastic and truly do the quality of the products proper justice. For home cinema lovers there are projectors to suit all budget, from the quality but basic wired models to full HD 1080P wireless taking the home cinema experience to the next level. Enjoy cinema quality images without the messy looking wires offering fantastic colours and achieves the Rec. 709 standard in HD reproduction.
If you're after a quality monitor for business or home office whether it's for simple word processing, graphic and design then the BenQ monitor can give you what you needs. For gaming there's the stunning curved screen monitor and for graphic designers the Ultra HD which offers unbelievable clarity and fine detail..
For the serious gamer there are not only the super HD monitors but many other essentials such as gaming mice for both right-handed and left-handed user, cable management devices, mouse mats and mouse feet.  For a bit of good quality audio to go with the vision side improvement then one of BenQ's bluetooth enabled speaker to top off the whole sound and vision experience with excellent  tuning and uncompromised sound.
Now a little bit about service. There's no doubt that BenQ offer a more than satisfactory service but there are no concessions for delivery cost regardless of how much is spent, so no free shipping options. They do offer a no quibble 14 day returns policy on any product.