Belvilla Shoppers Guide
When you want to book a holiday away, Belvilla is going to be the site to turn to. This offers you the chance to search for the perfect villa in a number of different, beautiful spots for all needs. While there is a bit of an old-school design, there are some positives to take away.
Instantly Start Your Search
One of the best parts of the site is that the search bar is the first thing you see. It's easy to fill in all the details and there's even a section that asks if you have pets. This helps to quickly narrow down your options.
The results are clearly labeled, showing you the price per night and with a large figure showing you the number of results available. There's plenty of options, no matter the size of your party. You can then easily narrow down your options if you would like a swimming pool, be near the beach, or other requirements you would like.
A Lot of Information at the Bottom
One of the downsides is that a lot of the information is kept at the very bottom of the site. This includes the contacting information and the FAQs. You have to go digging, which can be annoying if you are in a rush.
However, the FAQs are extensive, giving you plenty of warning about cancellation dates, tips on making the most of booking through the site, and insurance details if you need them.
The contact page also offers a phone number and email page. Customer Support operating times are clearly labeled, so you can make sure you only call when you know you'll get an answer. What it does lack is a social media presence, which has become the way for many to chat to a firm.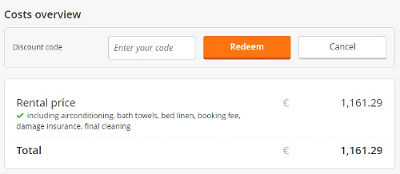 The booking form allows the use of a voucher code. The illustration above shows the way to use the code using the link. Just fill in the voucher code and click the 'Redeem' button. The price if the booking should then reflect the discount.