AllPlants Top Discounts
| Type | Offer | Discount |
| --- | --- | --- |
| Code | 15% off First Time Orders | 15% |
| Deal | 15% off New Customer Orders | 15% |
| Deal | Free Delivery with Weekday Orders | Free Delivery |
AllPlants Shoppers Guide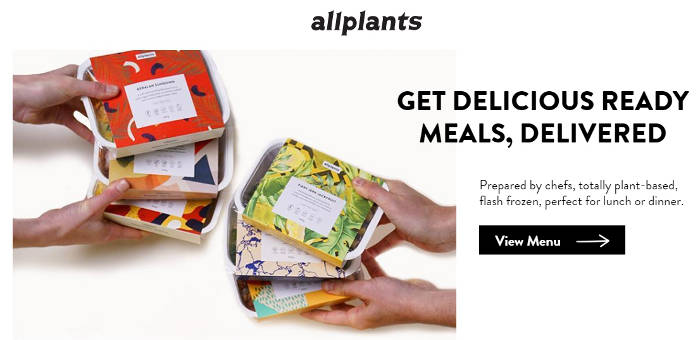 All Plants offers a great way to get good meals without the hard work. Everything is plant-based, making it a healthy alternative to many of the meals you get in the store. This is all clear the minute you visit the website, setting you up for expectations.
Instantly Offered to Join the Newsletter
As soon as you reach the homepage, you'll be offered the chance to join the newsletter. This is great for saving money, but it doesn't give you much time to browse first. Fortunately, the pop-up is easy to get rid of.
The site is easily and neatly laid out, making it easy to find the top picks from the chefs and delve more into the types of vegan meals on offer. The menu bar is a little difficult to spot at first, except for those who are used to using mobile devices. Instead of a bar at the top, you click on a set of lines to open up the menu.
Extremely Easy to Contact
All Plants wants you to ask questions if you have them, although the site is set out clearly, so you don't need to. Right at the bottom, there's a large banner in a beautiful yellow colour to draw you to the email address, phone number, and live chat function.
There is also social media pages to check out for Facebook, Twitter, and Instagram. The social platforms aren't updated every day, but communication is almost instant.
Decided now that you want to join the email list? There's an option at the very bottom of the page so you don't have to miss out.
One thing that is difficult to find is the FAQ section, which is a small link at the very bottom. This is where you find out about delivery options and prices, including free delivery availability.
Top Tips
Make the most of your savings with these top tips:
Make use of the free delivery
All Plants delivers for free during the week. Pick a Monday to Friday slot and make the most of that. All the vegan dishes are frozen, so even if you want something for next week you don't need to worry about having to order on the Saturday.
Bulk buy for Saturdays
If you do need to order on a Saturday, bulk buy your dishes. You can order six at a time, so make the most of that.
Sign up to the newsletter
Once you know you want to make the most of the all-vegan and gluten-free food, sign up to the newsletter for regular coupons and deals. Make the most of these allplants vegan discount, as there are few that are added to the main site.